On Friday, Sept. 15, the United States will observe National POW/MIA Recognition Day to honor Americans who were either prisoners of war or went missing in action, particularly during the Vietnam War.
POWs and the missing will be the focus of a special program that day at noon at the South Carolina Confederate Relic Room and Military Museum in Columbia. The museum's former curator of history, Fritz Hamer, will deliver a lecture giving an overview of the POW and MIA experience from 1964-73, with particular emphasis on South Carolinians.
The very first American POW was then-Capt. Jim Thompson, U.S. Army Special Forces, who was captured on March 26, 1964, when the tiny Cessna O-1 Bird observation plane on which he was a passenger was shot down by small arms fire. He was held by the Viet Cong until he was moved in 1967 to Hanoi. Like most Americans, he had never heard of the country when he was sent there. He would not be released until March 16, 1973, ten days short of nine years. He was tortured, starved, and isolated from other American POWs most of that time.
The first aviator to be shot down and taken prisoner was then-Lt. j.g. Everett Alvarez Jr. It happened on Aug. 5, 1964, shortly after the Gulf of Tonkin incident. Alvarez endured eight years and seven months of brutal captivity by the North Vietnamese at the Hỏa Lò Prison, ironically called the "Hanoi Hilton" by fellow POWs. No other aviators were held there for almost a year.
The lecture will focus in particular on three POWs with South Carolina connections, and one South Carolinian who went missing and never returned. Displays honor each of them at the museum's major exhibit, "A War With No Front Lines: South Carolina and the Vietnam War, 1965-1973." They are:
Jack Van Loan – Born in Oregon in 1939, Van Loan joined the Air Force and was a major when his F-4 Phantom fighter was shot down over North Vietnam on May 20, 1967. He ejected successfully, but injured his knee when he hit a tree on landing. After he was captured, "they worked on my knee pretty good … and, you know, just torturing me." He would be in the hands of the enemy for almost six years. A mural in the museum exhibit celebrates his joyful return home. He eventually retired in Columbia, and the city lost a dedicated community leader when he passed away in 2019.
Quincy Collins – Another Air Force pilot, shot down in 1965. He had grown up in North Carolina, but was born in South Carolina, and ended up graduating from the Citadel. He was in the band at the Citadel, and also was involved in choral singing. He underwent "horrendous torture," according to Hamer, until the North Vietnamese "relaxed things" in the early '70s. Looking for a propaganda boost, his captors asked him to put together a choir for a public Christmas event in Hanoi. He did, and the Americans sang "O Holy Night" – but with the words changed to tell the folks back home how thing really were.
Adm. James Bond Stockdale – He was the most senior naval officer held captive in Hanoi after his A-4 was shot down in 1965. He was awarded the Medal of Honor for the leadership he provided to the POWs. His wife, Sybil, formed a group to lobby Washington to place greater pressure on North Vietnamese to improve conditions, a campaign that led to the bracelets worn by Americans at home to increase awareness of the POWs' plight. After retirement, he was president of The Citadel from 1979 to 1980, and ran for vice president on Ross Perot's independent ticket in 1992.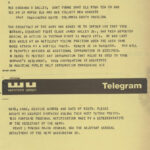 SFC James Salley – The soldier from South Carolina was missing in action after his firebase was overrun in the spring of 1971. The telegram that his wife, Rosanna, received breaking the terrible news to her is on display at the museum. The one account available in the 1970s said he became very sick and died somewhere in the jungles of South Vietnam. The government independently confirmed this in the 1980s. His widow and children still live in Columbia today.
Learn more about how more than 500 servicemen were imprisoned, tortured and confined for nearly a decade, and how more than 1,500 remain missing still.