COLUMBIA, S.C. – The "troubled Vietnam veteran" became a trope of television in the late 1970s. These guys had been through the wringer, and many came home with something called "post-traumatic stress disorder." Of course, many of their fathers had experienced "combat fatigue" in Europe and the Pacific, and some of their grandfathers suffered from "shell shock."
There were differences, but they were outweighed by the similarities, according to Mike Miller, former lead historian and head archivist of the Marine Corps History Division. Over a 34-year career, he had the opportunity to interview veterans who had served in all the nation's conflicts over more than a century – the world wars, Korea, Vietnam, and such smaller actions as the "Banana Wars" in Central America.
At noon on Friday, Nov. 11 – Veterans Day – he will talk about what he learned from those hundreds of interviews, in a program at the South Carolina Confederate Relic Room and Military Museum. The lecture, which is free and open to the public, is part of the museum's monthly Lunch and Learn program.
It's also occurring on the opening day of the museum's major new exhibit, "A War With No Front Lines: South Carolina and the Vietnam War, 1965-1973." The long-awaited exhibit invites visitors to experience the stories of South Carolinians who served in that place and time, and see the things they wore and carried into battle. Learn more at https://scinvietnam.com/.
Mike Miller has heard many of those stories, straight from the mouths of the warriors themselves. He's also heard about what these Americans experienced in the trenches of the "War to End Wars," and on many other battlefields since – from Belleau Wood and the Argonne to Bataan, Guadalcanal and Iwo Jima; from Chosin to Hue and Khe Sanh.
"Vietnam veterans can be looked at through a stovepipe," seen through a narrow perspective that blocks out the context of history, says Miller. His decades of individual interviews have provided him with the broad sweep of history. In his lecture, he'll share stories of a wide variety of veterans he has spoken with, including two World War II Medal of Honor recipients and a Marine who received the Navy Cross for his service in Vietnam.
"This topic is something I've really been fascinated with over the years," he says. Yet, "this is something I've never talked about." Since his interviews started in 1984, Miller has seen the doughboys pass away into history, and then the "Greatest Generation" after them. "This needs to be codified" before the Vietnam generation has passed on as well, he has realized.
He's working on a book about these veteran experiences. But first, he will address what he has learned in this lecture at the museum.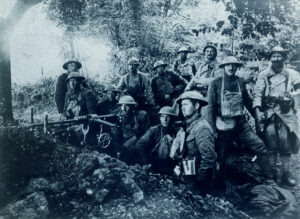 "Each war is somewhat different," he says – in the specific dangers faced, and the historical, social and economic contexts in which the fighting occurs. Nevertheless, the combat stresses have psychological and spiritual effects that are much the same in each battle. There are things the veterans experienced that they have in common.
But there are differences. He's seen that it's all a little easier to deal with for the "veterans of the larger wars," especially the world wars, in which it was "a lot simpler to understand why you're fighting and what you're fighting for."
And one huge factor that those veterans could take for granted was solid backing back home. "The support at home is vital, and when that's gone, that's a whole different perspective."
That "different perspective" was experienced by the Vietnam veteran – and in different ways, by his counterparts in Iraq and Afghanistan.
Miller will talk about the effects of that, and more, on Veterans Day.
Michael Miller earned a bachelor's degree in history from the University of Alabama, and his master's in American history from Virginia Tech. He served for 34 years as a historian and archivists with the United States Marine Corps. He has taught at Penn State University, the Marine Corps University, and the University of Mary Washington. He has published numerous works on military history.